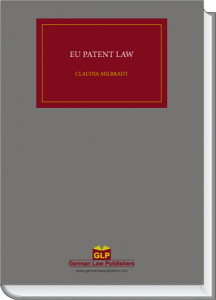 EU Patent Law
edited by Claudia Milbradt
October 2015, about 300 Pages
ISBN 978-3-941389-11-3
€ 98,– | $ 132,50
Dr. Claudia Milbradt, Clifford Chance, Düsseldorf
is Partner and very experienced in technology transfer and patent license agreements. She is specialised in patent and trademark litigation and gives strategic advice for crossborder IP litigations.
The new set of rules will change the practice of the law in this area completely. This is the first book in the English language to be published in Germany.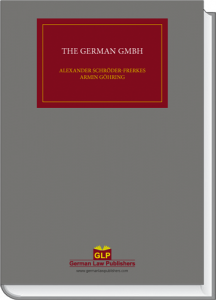 The German GmbH
edited by Alexander Schröder-Frerkes and Armin Göhring
October 2015, about 300 pages
ISBN 978-3-941389-18-2
€ 98,– | $ 132,50
Dr. Alexander Schröder-Frerkes, Bird & Bird, Düsseldorf
is the managing partner for the German offices and a member of the Global Management Committee of his law firm. He is also head of the International Corporate Group.
Dr. Armin Göhring, Bird & Bird, Düsseldorf
is Counsel and advises German and international clients on all aspects of commercial and corporate law, in particular in the fields of mergers & acquisitions, stock corporation law and restructuring.
The book deals with all aspects of the law of the German GmbH which are relevant for the practice. It is the most up to date book of its kind in the German market.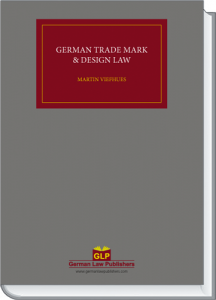 German Trade Mark and Design Law
by Martin Viefhues
October 2015, about 300 pages
ISBN 978-3-941389-19-9
€ 98,– | $ 132,50
Dr. Martin Viefhues, Jonas Rechtsanwälte, Köln
is managing partner and advises in the areas of trademark, design and competition law. He also represents his clients in courts at all levels.
The book is written from practioners with a view to the practice in companies and law firms as well. It covers the most recent European developments in its field.